Welcome to Just Dandy!
Just Dandy is a little corner of the internet dedicated to the charming creatures from the wonderful 90s computer game Petz 4. I'm Penny, previously of Lucky Penny Kennels, and the handsome orange gentleman you see frolicking around on this site's pages is my good friend Dapper. We're so glad you stopped by! Take a look around, make yourself at home, and don't forget to give Dapper a few pats on the way out.
​
A quick note: I'm in grad school, and while I love it, it's a lot of work. Updates here vary based on my current workload!
​
05/01/2022 - new colors for the new month, new PotM, updated stamp collection, stamp archive, find-it awards
The May 2022 Pet of the Month is Lyrhix from me, Lyric @ Lemonade Lyric Crittery, Rho @ Rho Petz, and Audaxity! How can one dog be from four people, you ask? Lyrhix is the result of breeding each of our purebred, non-inbred dali lines together. He's tenth-generation with a whopping 1022 unique ancestors in his tree! He was born right as April ended, so I figured he and his amazing ancestry should be center stage in May. Here's a stamp of Lyrhix for you to collect!
04/29/2022 - updated stamp collection, links
04/26/2022 - updated crew, stamp archive
04/23/2022 - new litters up on Adoptions
04/10/2022 - new colors for the new month, new Pet of the Month (oops I'm late), updated stamp collection, show awards, links
04/10/2022 - updated links, more secret stuff (shh again)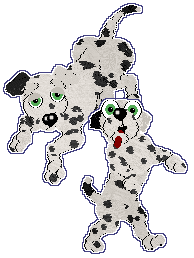 The spiffy monocle and mustache set you see Dapper and his friends wearing can be downloaded from Gossipin!
Design and original graphics by me. Hosted by Wix. © 2023 by Penny @ Just Dandy
​